Testimonials
Do your dogs love Iris Cookies? Send us a picture of your dog, along with the breed and age of the dog and include some comments about our product. We'd love to hear from you. Email us at mydog@dogcookiesbyiris.com.
Click the pictures to enlarge.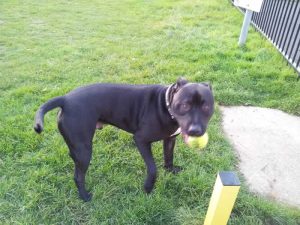 Our dog, Alfie, recently joined our family and is a very loving dog to myself, wife, Jo, and son Jack.  He loves Iris Cookies! In fact, we both loved the last shipment of cookies!
Andy
Kent, England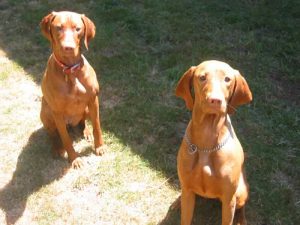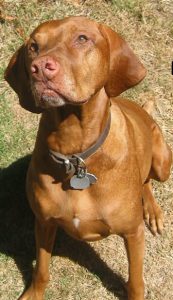 Shobi (left) and Meira (right), two one-year old Vizslas, have recently come to live with President, Iris Gilchrist and her partner, Jim. Rudi, right, is Jim's eight-year-old male.
All the Vizslas crave Iris cookies, especially the bacon-based treats.
They live outside the bakery and are often rewarded with freshly baked, warm treats!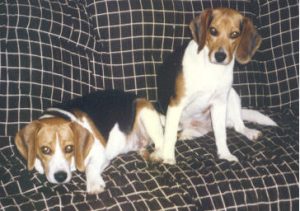 These are the two dogs who started it all.
These two beagle sisters, Ponya and Zhinka, belonged to President, Iris Gilchrist.
Both lived over 16 years.
We received a lovely story about this beautiful dog and wanted to share it with you:
Hello. You don't know me, but my dog and I know your cookies well. We are the ones who order one hundred rhino cookies at a time from Chez Terry. I thought I would tell you a story about my dog and your cookies.
My dog is Reenie, short for Irini, the goddess of Peace (perhaps a bit of a misnomer). Her father is a timber wolf/husky cross and her mother is an Arctic Wolf/Golden Retriever cross. Reenie is seven years old and I have had her since she was seven weeks old. She is a very unusual dog (I'm sure all owners say that but she really is).
Every morning, when she comes back into the house after going outside, I ask her if she want a Mr. Rhino. She stops at the cookie tin and waits for me to get one. One day I was in a playful mood and took the cookie and sang:  'Here Comes Mr. Rhino, bump boomp, boomp boomp' as I walked the cookie down the counter right into her mouth. She seemed to like that so every morning, I did this little song and dance with Mr. Rhino.
One day I was not in such a good mood and was in a big rush, so I opened the cookie tin and gave her a cookie without singing the little song. She sat there and turned her head away from me. She didn't move – she wanted the cookie, but she refused to take it until I had done my little song:  'Here comes Mr. Rhino, boomp boomp boomp,' etc. Once I did that, she happily snapped up the cookie and went off to relish it. And so now I and any dog sitters, etc know that we MUST do this little song and dance for Reenie in order for her to take the cookie. She will sit by the tin with her head in the air, not moving, until we do. It makes me laugh every morning. Reenie is a very happy dog and is always smiling.
Dr. Simkin, Victoria, BC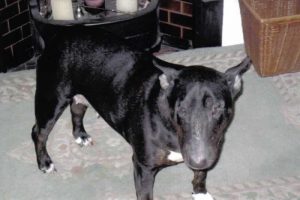 This is Misty, an English Bull Terrier. She loves our cookies so much mum and dad say, "they hardly have time to touch the sides of her mouth before they're gone."
She's not only adorable, but has great taste too.
Graham and Kay, Ashford, Kent, England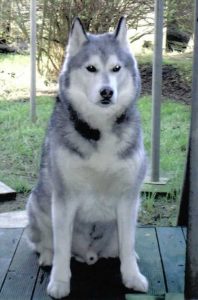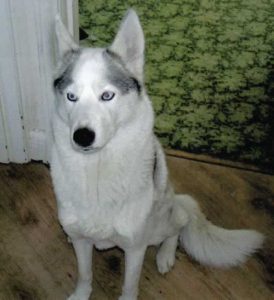 These two beautiful Huskies are Sky (left) and Nicko (right).
When we asked their owners how these gorgeous dogs enjoyed our cookies they said "not much to say about these two, the biscuits just disappeared.
I guess that says it all.
Paul and Jane, Ashford, Kent, England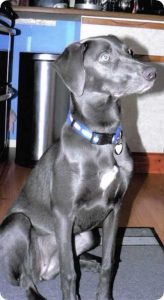 This stunning beauty is Cassie.
She is a cross breed between a Weimaraner and ???
"Cassie really enjoys Dog Cookies by Iris and her owners are glad to know they're healthy too."
Dennis and Judy, Ashford, Kent, England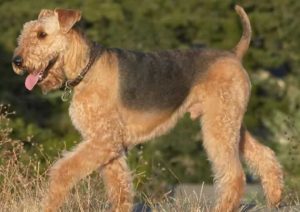 "Stanley has very selective hearing, but recently he has decided to add a new word to his selected hearing list.

Now when I want Stanley to come in from the backyard, I only have to say the word 'treat' and show him the bag and he comes right in.
These treats have definitely improved one Airedale's hearing."
Valerie, Victoria, BC
"DJ (Italian Greyhound) normally isn't a fan of regular dog treats, but he turns into a jumping bean when I bring these cookies out of the cupboard."
Leah, Victoria, BC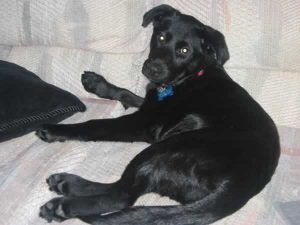 This is Molly Mae. She is a Black Lab/Border Collie X, shown here at 5 months old. She has been given the treats every day since joining the family–just one or two –and she loves them.
Her owner states: "If you want a great incentive for training a new puppy? Try Iris Cookies trainer bits, they're a healthy training incentive… a true reward!"
Sean, Nanaimo, BC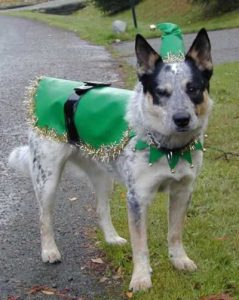 This little sweetie is Tess. She is an Australian Cattle Dog and has recently tried Iris Cookies for the first time. Her owner was thoughtful enough to send us this comment:
"Elegant packaging for me and a nutritious fun cookie for my dog!  Thank you very much!"
Pam, Saanich Peninsula, BC
Thanks a lot! We love to hear from our customers!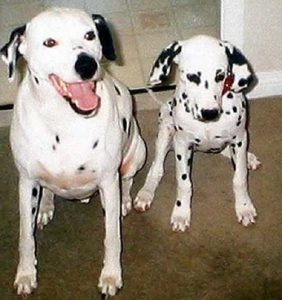 Here we have 7 year old Jasper and 3.5 month old Keyla, both dalmatians.
"Jasper has been a long time Iris Cookie customer and happily now shares them with his new pal."
Claire, Victoria, BC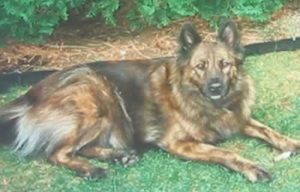 Message from Cali, a beautiful Belgian Tervuren:
"My human friend believes that she can fool me with the "other cookies" but I am very  smart and always choose IRIS cookies… They are absolutely delicious… Mmmm…they are nummers!"
From Jean, Cali's human friend:
I have given Cali the 'Dog Cookie Taste Test' several times (placing several different cookies in front of her) and she has never chosen another brand…. always picks out COOKIES BY IRIS.
Jean, Kelowna, BC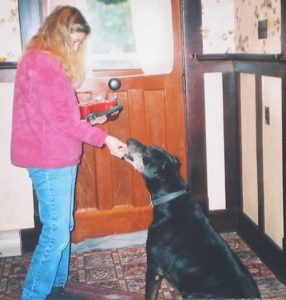 Here we have Buddy.
"Buddy is a loyal fan of Iris Cookies. He knows the way to get his favourite treat is to sit pretty and look adorable, which isn't difficult when you're as great a dog as Buddy is!"
Sue, Victoria, BC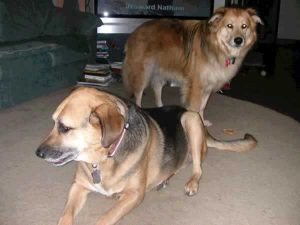 Max (foreground) and Buddy (standing) love Iris Cookies too! Buddy is a golden retriever/collie cross and is 7 years old. Max is a German shepherd/bloodhound cross and also 7 years old.
These two sweet boys are their mom's babies and they get Iris Cookies as special treats all the way from Victoria, BC. They must be special dogs to get treats sent from so far away. Mom says they try to open the box when it gets delivered. We say "good boys!!"
Rita, Beaver Creek, Ohio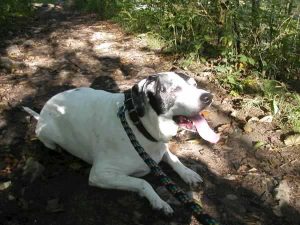 This beauty is Emma.  She is an 8 year old English Pointer. She is Buddy and Max's "aunt", and taught them about the wonders of Iris Cookies.  She too is a loyal fan of our cookies.  We're pretty fond of you too, Emma.
Mary, Beaver Creek, Ohio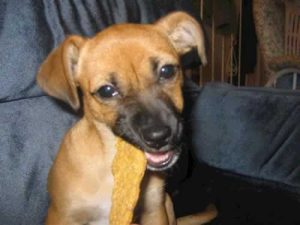 Shelby is a 3 month old Jack Russell/Pomeranian/Shih tzu cross. So far, Shelby's favourite cookies are the Ginger-Carrot and the trainer bits. She goes crazy for Iris Cookies!!  One of her favourite activities is chasing the neighbourhood squirrels out of the backyard.  Shelby wondered if you make SQUIRREL shaped cookies in the Fall?
Sheri, Duncan, BC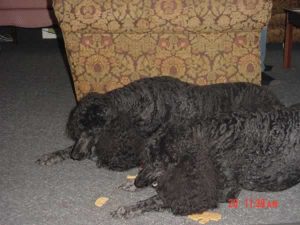 Beautiful Tony and Juliette chowing down on Iris Cookies!
They are loyal fans of Dog Cookies by Iris too.
Mary, Victoria, BC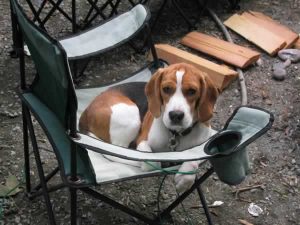 Buddy must be the only fussy beagle on the planet. His cute face made it easier to deal with the fact that he would only eat the most expensive treats available… until he tried Iris' dog cookies. Now he and dad are both happy!
Brooke and Jason, Victoria, BC
We're happy to cater to Buddy's expensive tastes and promise not to tell him how reasonably priced DOG COOKIES BY IRIS are.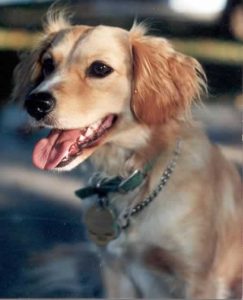 This beautiful old girl is Lady. At 16 years old, Lady is one of our oldest and dearest fans.
Mark, Victoria, BC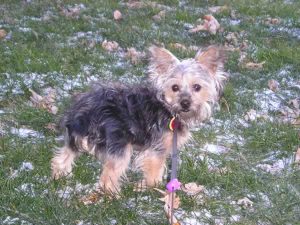 Princess is an 18 month old Yorkie-Poo (Yorkie/Poodle Cross), shown here at 6 months old. Princess loves Iris Cookies!
Shannon, Florence, Kentucky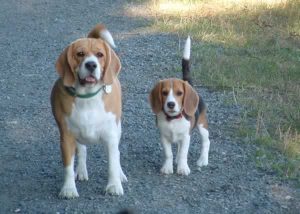 Here we have two new loyal fans, Patches and Daisy.
Their mom writes, "I have 2 beagles, Patches and Daisy, who love to eat. I bought a small package of Iris's peanut butter cookies and they are still looking for more of them. Yum Yum. They wouldn't let their mom rest until she gave them the empty bag.
Lynene and Greg, Cowichan Bay, BC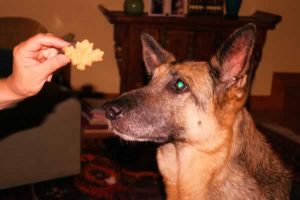 Keeping our 13-year-old purebred German Shepherd balanced in old age is helped a lot by her playful nature and keen interest in life. The treats we use to coax her through her routines are part of what it takes to balance her outlook. We are happy to say that for our Jodi, Dog Cookies By Iris fill the bill like no standard commercial dog biscuit or bargain bulk buy. If we had the time, we'd make them ourselves with the same healthy ingredients – including the love you clearly put into them.
Lon and Lorrie Wood, Thetis Island, BC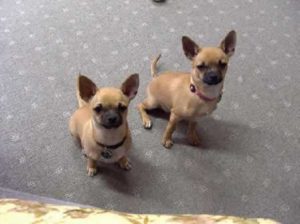 This is Abby & Pico (2 year old Chihuahua twins). My Chi kids love your cookies and when I tried to switch them, well, let's just say, that didn't go over very well.
My boy is very picky and will only eat your trainer bits which I used as an effective training tool. They send their thanks to you and your crew.
Denise Tremblay, Powell River, BC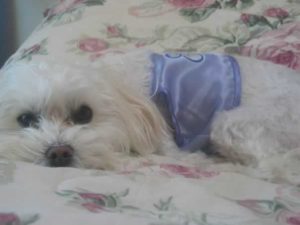 Hi!  I started buying your Bacon Trainer Bits for my Maltese/Yorkie cross a year or so ago, at a local store in Victoria. She loved them and they are a perfect size for her, as she is only 9 lbs. Unfortunately the store went out of business recently so I decided to try to find them online. I was so pleased when I did!I ordered a big (and it really *is* BIG!) bag of the Bacon Trainer Bits and a big bag of the Cheesy Sweet Potato Kelpie Treats. They will last her a very long time. She absolutely loves them and will do any of her tricks to get one. Annie and I say a big THANK-YOU! for making such delicious dog treats!"
Margo Salmond, Victoria, BC
Thanks for the great email Margo and Annie! We're so happy you like our products and yes, we have other stores we sell through, click here to find one near you!!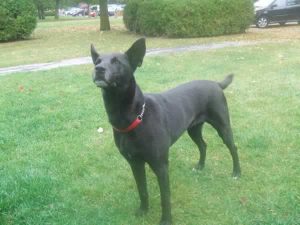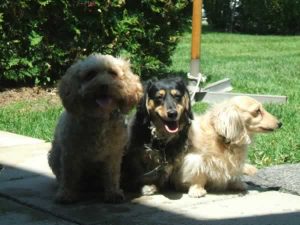 Hi Iris, here are a couple of pictures to put up on your testimonial page. From the left is Honey, a Schnoodle we rescued from a puppy mill in Quebec, she is 2 yrs old. Tony, an English Dachshund we got as a puppy from a breeder in Northern B.C. He's 3 yrs old, and Gina, also an English Dachshund we rescued from the same breeder. She's 5 yrs old. Picture #2 is Luna, an English Shepherd, Doberman cross, 5 yrs old, our foster girl.
Lorri Mace and Family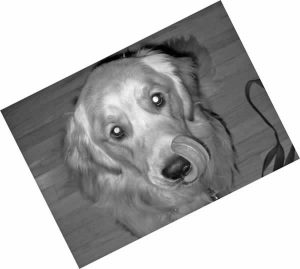 Dear Iris, Attached is a photograph of my 11 month old Golden Retriever, "Harold." My boss purchased some of your cookies and kindly passed them on to Harold. They were a huge hit! This photograph was taken a few seconds after Harold had his first cookie, and I thought you'd appreciate seeing his reaction. Thanks again.
Adam
Thanks for the email Adam! Clearly Harold is of above-average intelligence – or at least has great taste in cookies!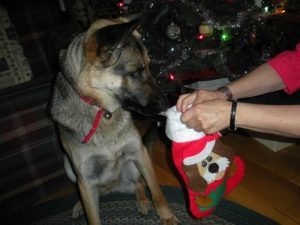 Dear Cookies by Iris, My name is Maggie and I am nearly two years old. I love the Iris Cookies that my Auntie Jodie sent me for Christmas from Victoria. I was hoping for liqueur-filled chocolates but Auntie Lorrie said that would be bad, Bad, BAD for me. When I snuffled my snout into my Christmas stocking yesterday, however, I was delighted to find a cello bag with a black paw print (which meant it really was for me) – and did I enjoy the cookies? You bet! I am a purebred German Shepherd who lives in the Gulf Islands and is a bit of a finicky eater – I could afford to put on a few kilograms – but the delicious taste of Iris Cookies had me drooling and gobbling in a heartbeat. Well done, Auntie Iris! (May I call you Auntie Iris?) I will look forward to your product at every opportunity when my mom, Liz, and dad, Paul, go shopping.

Lots of love,
Maggie Legallais
Dear Maggie – of course you may call me Auntie Iris! I'm so pleased you enjoyed your cookies. I hope you get some more soon!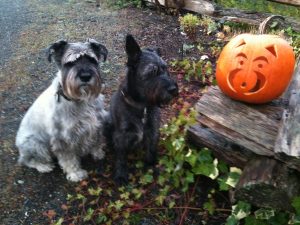 Dear Cookies by Iris:
We were so not looking forward to Halloween this year — same old stale treats handed out; ones you wouldn't give a dog. (The fireworks are bearable only if you can be distracted by something good to get your teeth into.)  Well, Trick or Treating took on a whole new twist this year when our distant Aunt Jodie came up to our hilltop home in Metchosin — bearing a bag each of cheese and liver-flavoured canine confections made with loving care and nutritious ingredients by you.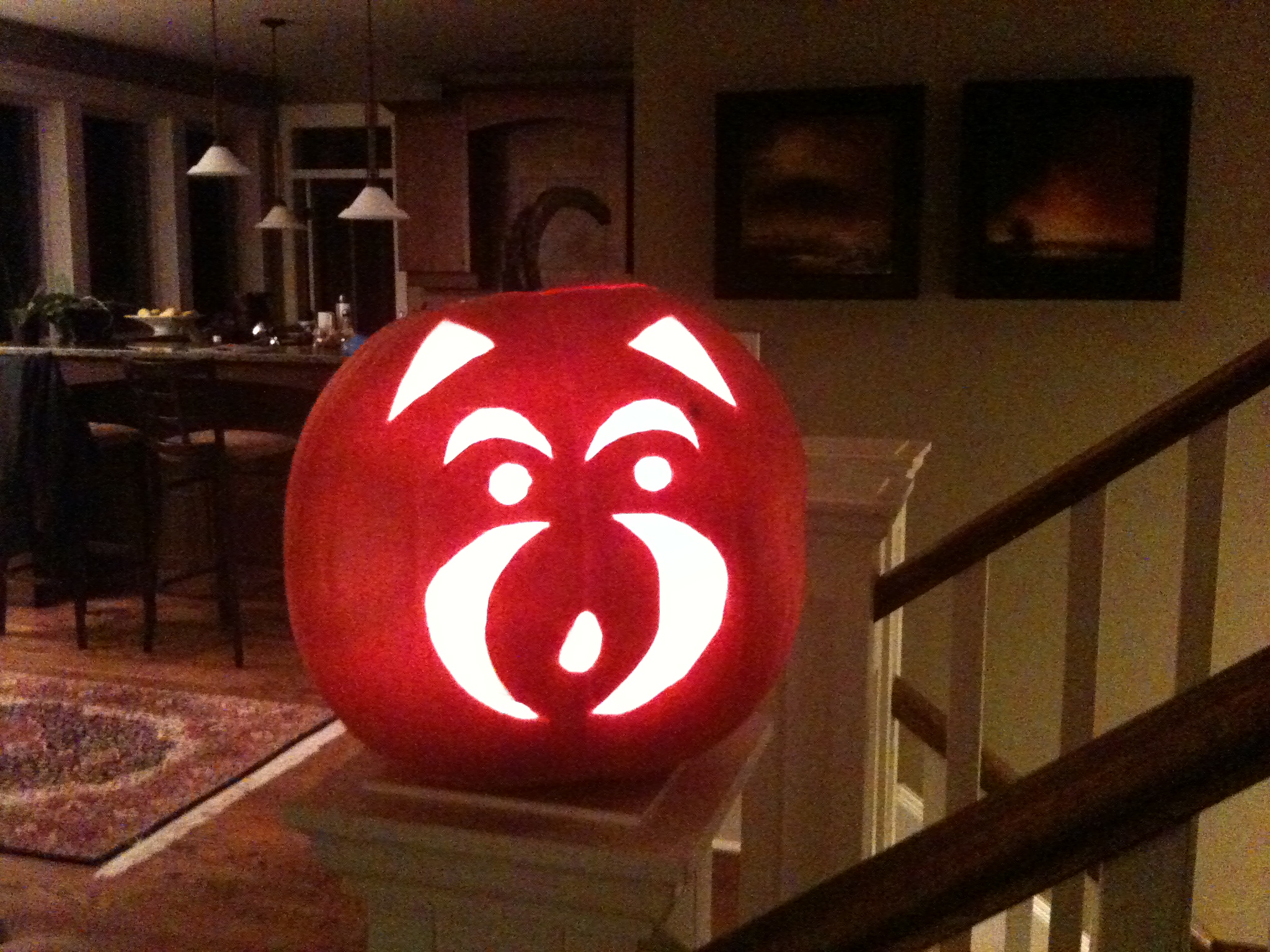 Were they ever good. They made our Halloween one to remember — along with the Schnauz-o-lantern carved by Uncle Lon, our kind and caring sitter.  Because we get out on a lot of walks in rural and remote wilderness parks and trails, we can assure you that each lift of our leg (and there are many) leaves a calling card that broadcasts the virtue of Cookies By Iris to packs of pampered southern Vancouver Island dogs taking their masters for a run.
All the best from the two of us,
Kaiser & George.
---
Send us your pictures and comments….. we love to hear about your dogs! Email them to mydog@dogcookiesbyiris.com